Coon Rapids Love My Pet Fair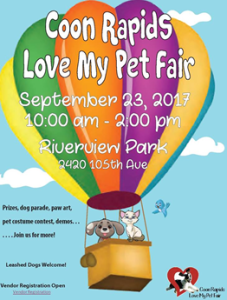 Coon Rapids Love My Pet Fair has fun activities for you and your pets. Our goal is to provide products, services and education to all pet lovers in a pet-friendly and family-friendly environment.
New this year is the Children's Activity Center! Games and activities for your kids and pets. We have a Pet Project! 

Come learn to draw animals with an artist. Listen to stories about how we can be good ambassadors for animals. Seats are limited for children 5 years and up. More information coming!
Here's other fun activities in store for all! Come see talented flying discs dogs. Have your pet try out paw art. Dress up your dog and take pictures with our pet photographer. Then join in on our ever popular pet parade! These and much more coming your way! 
~  Dogs are welcome and encourage to attend