Fall Block Bash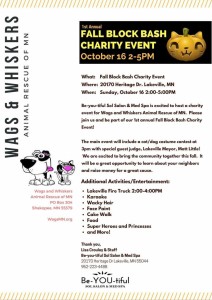 Join us at Be-YOU-tiful Salon on October16th from 2:00 – 5:00pm. This will be an afternoon full of fun for the whole family. All proceeds from the event will benefit Wags & Whiskers. There is something for everyone.  More information can be found here: http://www.wagsmn.org/events/event/fall-block-bash-charity-event/
Bow Wow Film Festival
After a wildly successful inaugural year with dozens of shows around the country, and over thousands of dollars raised, Bow Wow Film Fest is back with another rousing great show!  Join us for a delightful day out to celebrate our beloved canine companions and all the richness they bring to our lives!  The films this year feature pups as adventure buddies, service dogs and lifelong pals.  Come laugh and cheer and maybe even tear up a bit as we marvel in all the ways these beloved furry creatures touch our lives!  Bow Wow Film Fest is Short Films for the Love of Dog! All proceeds benefit Wags and Whiskers, Twin Cities Pet Rescue, and Safe Hands Animal Rescue. We will be offering two shows this year! At 4:00 p.m. and 8:00 p.m. Tickets will be $12 or $7 for kids 12 and under at Wags & Whiskers and Twin Cities Pet rescue events and online and will cost $15 at the door. Kids will still be $7 at the door. We will also be offering special exclusive VIP seating up front on love seat sofas. The love seats are $40 and seat two individuals. Doors will open at 3:00 p.m. and 7:00, and the films will begin promptly at 4:00 p.m. and 8:00 p.m.
Tickets can be purchased here:
https://www.ticketriver.com/event/20246;jsessionid=F543BAA5B21F263683DD220F4C1F6DD0 Bow Wow is a traveling film festival that celebrates, educates and inspires all things doggie (with or without their human) through the art of short film. Bow Wow Film Fest features some of the year's' best pooch themed short films all wrapped up in one  beautiful, fun-loving package!  Bow Wow presents an opportunity for animal welfare groups to host an event that generates awareness as well as offers a unique and delightful way to fundraise.
Join our Newsletter!
Want to stay current and connected? Our email newsletter will keep you informed about upcoming events, things happening within Wags and much, much more! Click HERE to sign up!
Need a Gift for a Special Occasion?
Each wine bottle contains a picture of a dog adopted from Wags… making each bottle that much more special! $6 from every bottle sold will be donated to Wags.